3 Easy Steps to Jumpstart a New Life:  Word of the Year, Vision Board, Reap Results
The Unknown
A couple of my friends and I like to sometimes choose a new word of the year for ourselves to live by. I don't really know which inspirational leader started "Word of the Year" and I don't know if I necessarily do it right.  But here's what I do know.  Most of the time the word chooses us like a stray cat adopts a family.  No one knows for sure what this word is going to mean in our lives.  One never really knows the situations one might be faced with during the year to jolt this word into reality.  Last year, 2020, my word was Authentic.  When I chose this word, or when this word jumped on my front porch, I had no idea the world would be faced with a Pandemic.  In the beginning I saw this word meaning something completely different than how Authentic actually manifested in my life.  Throughout the year, I found myself in challenging situations.  These situations forced me to make decisions that were right and best for me like masking up when others didn't, or isolating when the state re-emerged from lockdown, and isolating again when Covid 19 rates spiked.   By living a more recluse lifestyle, one day begins to look like the previous day and before I knew it 2020 was coming to an end.
Word Appears
A few days before this new year, the word Enthusiasm came into my being and wouldn't let go.  It was like the return of an old favorite pair of jeans. My deceased husband, gone for over two years now, had enthusiasm for life.  I haven't had much of it in my life since he passed.  When the Enthusiasm unexpectedly appeared, the word brought me feelings of such joy and hopeful intent.  This seemed especially daring coming off of 2020 isolation, devastation, and the world in a state of unrest; and entering 2021 not knowing if this year was going to be any different in the world than the past year had been.  I knew I was going to need extra visualization to help me maintain Enthusiasm.  I wanted to change my entire conditional thought process as Ester and Abraham Hicks talk about in their recordings.  I wanted this positive conditional vibration to be my reality on a daily basis to change my life and bring about new intentions, attractions, and authentic lifestyle.  Cause that's what Enthusiasm is after all, it's giving feet to Authentic and taking the next step.
Making of My Vision Board
So, for the second time since my husband passed, I set out to make a new Vision Board.  The making of this board was much different than the first one I had made. Before making the vision board I defined exactly what Enthusiasm meant to me and tried to define what that would look like in my life.  I didn't look for scenarios, end results or expectations.  I was seeking what Enthusiasm would feel like on a daily basis.  Next, I made a list of what changes I wanted this beautiful word to bring me.  These were intentions and goals of how I could truly start a new chapter in my life on my own, regardless of whatever happens out in the world.  Changes that I had control over, or at least as much as possible at this given point in time.  Now I was ready to begin my Vision Board.  I have been saving magazines over the course of the past several years to make vision boards with friends.  I surrounded myself with the stacks of magazines and got to flipping pages in search of pictures that would bring about Enthusiasm and my intentions, goals, desires, feelings I wanted for 2021.  First caption I came across was amazing, "Are you an enthusiast?  Bold, independent, with interests far and wide." I eagerly cut it out holding much anticipation behind my scissors for the perfect pictures I would find next.  Picture after picture it started to become clear to me that, except for the first caption, I was clipping pics of my goals of things I wanted to accomplish around the house like painting bedrooms and renovating the kitchen and front yard.  The pictures strewn about began to feel like a pictorial to-do list rather than a Vision Board of life changing intentions. I don't know about you, but for me a to-do list doesn't bring much enthusiasm.  A to-do list only brings me anxiety.  I trashed the to-do style pictures and began to focus on titles and words like,
"Grand Visions," "Bold Moves," "Your Chance to Shine," "Giving," "Refresh & Recharge."
From each of the titles came pictures that fit my authentic intentions which brought about much Enthusiasm in just viewing them.  When I felt like the titles, words, and captions fulfilled my list of intentions, I began arranging the words around the poster board then adding the appropriate pictures around the words. For instance, around "Your Chance to Shine" I added a smaller caption of "Home Sweet Office" and a picture of an art studio (which I have in my home) and a cartoon picture of a woman standing on an open book cover teaching a group standing (social distanced) on the pages. The cartoon picture was rather astounding to me because my magazines are several years old and it was before we had the instruction to social distance.  This entire section on my Vision Board represents so much to me.  If it's one thing I have learned from growing up an only child, homeschooling my kids, going to work full time, going back home to grieve the loss of my husband, and living in isolation from a world pandemic is that I really do enjoy working and being at home most of all.  This section represents the desire to make my income in my home.  From start to finish the process took me several days to complete.  Still, there were a few photos of tangible items I wanted to attract into my life and add to my board.  The day I was ready to hang my board I said, "I would like to receive a catalog in the mail today containing these items."  That day, in my mailbox was a catalog with the remaining picture I wanted of a Greek statue for my front yard.  I cut it out, glued it on, and later that day hung my board.
Not Fancy, Yet Effective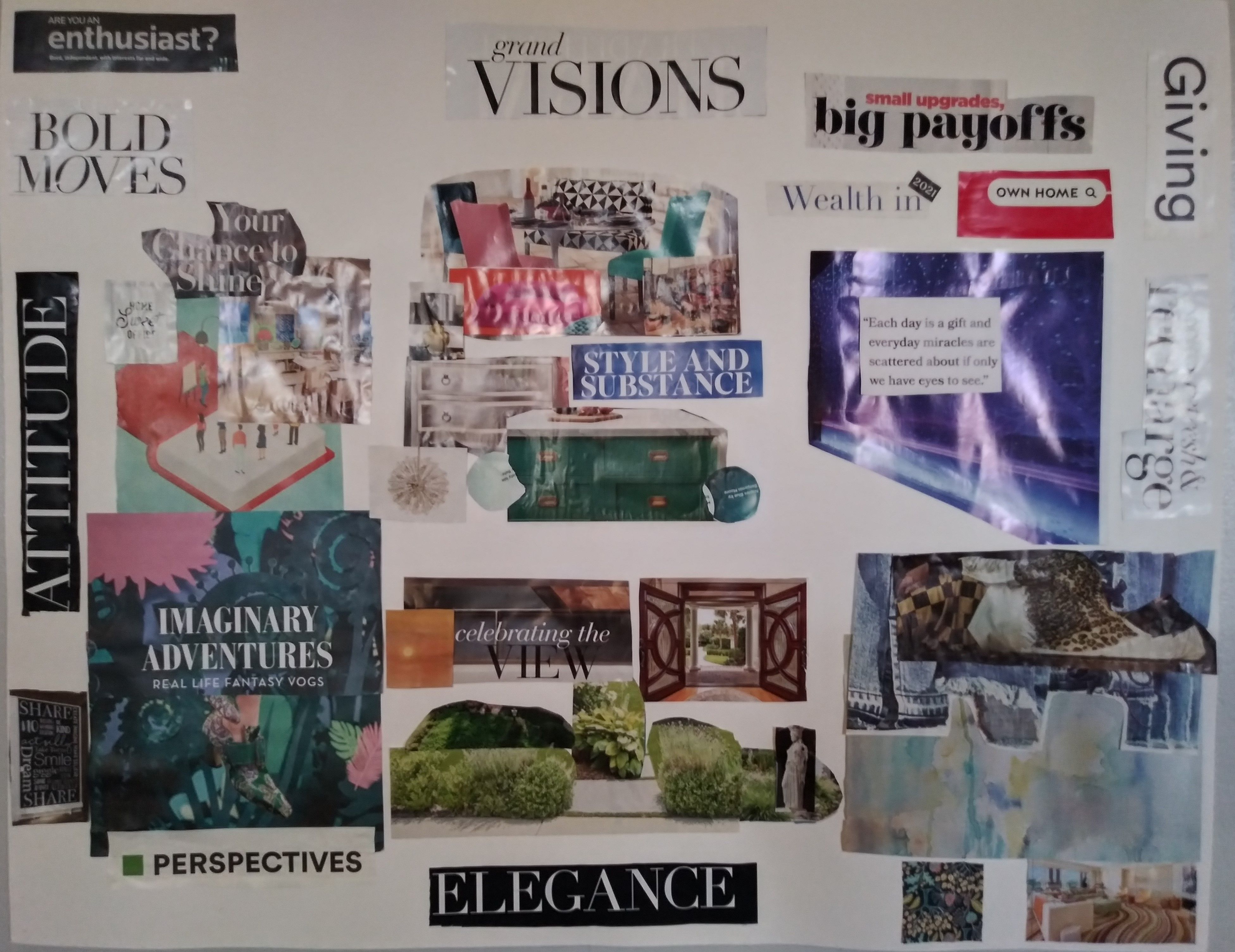 Reaping Results:  Ideas
I have grand visions of having my mortgage paid off to small attractions like adding a Greek statue to my front yard, to a reminder to enjoy a sunset, all on my Vision Board for 2021.  As of this writing, it's only 15 days into the new year and I felt led to start a new blog to share the journey with someone like you.  Can't wait to share what else has unfolded like my new perceptions and joy of lifting my relationships.
For those of you who are wondering, "What the heck is a Vision Board?"  Below are a few of my favorite inspiring teachers and their take, definitions, and how-to's. 
Christine Kane Answers the question What is a Vision Board here and provides a guide on How to Make a Vision Board here.
Jack Cranfield How to Make an Empowering Vision Board
Three easy steps to jumpstart a new life:  Choose your Word of the Year, create a Vision Board, Reap the results of new ideas, new perceptions, and new joy. Three months into the year, my word, Enthusiasm is no longer only the feet moving me forward, Enthusiasm is becoming my engine pulling box cars full of ideas and the ability to greet dreaded situations directly while maintaining authenticity, gaining new perceptions and lifting my relationships.  More on all this in future blog posts (including my broken leg).  For now, it's your turn:
Do you have a Word of the Year?  Did you create a Vision Board? Are you Reaping Results?  Tell us all about it in the comments and Get Free with Me!